Our Summer:
It's been an interesting summer in that it has been a strange combination of success and failure.
We sold our house and are have had an offer accepted to buy a new house in Oshawa (No, the name of this site won't change – hey I still work in Toronto and thus spend most of my scooter riding hours commuting to and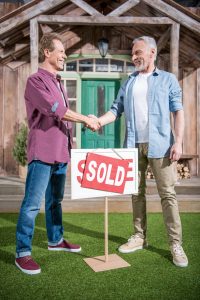 within it.  Plus I can't figure out how to make a logo with SO in it so we're sticking with what we have.)
This has meant many distractions – meaning I have a backlog of articles to finish writing and get posted.  And an even bigger backlog of article ideas to get out and research, interview, and otherwise take from idea into written form.
So in terms of article ambitions for the summer – failure.
But the new house and living situation will include (by the spring) a scooter garage and a better situation in general for getting out on rides – so…. success.
The Akira Burgman (my Akira themed Burgman 400 with Armec sidecar) which is my primary day to day transport is finally back on the road after having sat for most of the summer!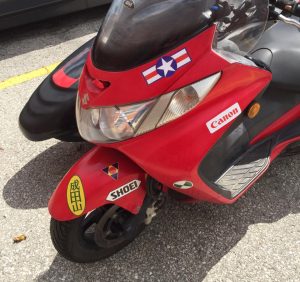 The failed starter motor is replaced (2nd one for this machine) and it's now back to being my daily machine.  Just in time for the upcoming #TheMotoSocialCamp event we will be attending.
Trust me when it comes to motorcycle camping – sidecars are handy.  We'll be bringing ridiculous amounts of gear to make ourselves comfortable for the weekend and it will be stuffed into the sidecar in as inefficient a manner as possible.
So – success in getting it up and running and back on the road.  Success also in finding a new mechanic shop closer to the new house (Kudos to Precision Cycle Works in Oshawa for a great job fixing things).
But failure in that I didn't have it for much of the summer – and had to do all kinds of trips with overly large things strapped to a not-so-large scooter or two.
We also had a success in our first event – the 2018 Junk Run.  We ended up doing it with only three scooters, but it was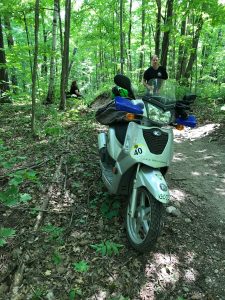 a surprising success in that no one was actually horribly killed, kidnapped by demented groundhogs, or otherwise maimed or permanently scarred by the experience.
I mean mentally yes, but that's to be expected.
We took three street scooters out for a full day of offroading at the Ganaraska park – doing both dual and single track and dealing with everything from rocky steel hill climbs to loose sand.  And the scooters did it all and came back for more.
Whats ahead for Scoottoronto:
Shortly we will be going to #TheMotoSocialCamp event in Picton, Ontario –

on July 7th to 9th.  We're *really* looking forward to this as it is really the first time we have had a chance to get away for an entire weekend on the bikes all year.
Me going this long without a scooter or motorcycle trip has not happened in decades.  I'm starting to twitch and make vroom vroom noises.  I mean yes, I do drive a scooter just about every single day to and from work and to run errands – it's my main source of transportation after all – but it just isn't the same as getting outside the city and hitting new roads.
We'll be posting an article on that, and hope to see some readers out there.  If you *DO* see my scooter at the event, come up and introduce yourself – I'll have a limited amount of Scoottoronto Swag (TM) to give away to those who do.  (Stickers and maybe a T-shirt or two.)
After that we have some more "Past Due Reviews" on non current or used bikes – including a 12 years of ownership report on the Kymco B&W 250.  Also some long term gear reviews will be worked into the mix, and some general scooter stories, rants and opinions.
I'm also going to be throwing some interview and niche articles into the mix in the fall/winter season – with some interviews of some riders (not your usual racer interview, more not-so-average ordinary riders) and an article on scooter sidecars.
Summary:
As I said, it has been a summer of success and failure.   But one success has been creating and writing articles for this blog/magazine thing – Scoottoronto.  It's already led to some great interactions with other scooter enthusiasts – and to meeting some new people.
It has allowed me to tell some stories of two (and three) wheeled travel, and my experiences there.  And there will be more of them coming over the next while.
One thing I have learned about the two wheeled lifestyle, be it motorcycle or scooter and that is that all rides end up being about experiences.  And all experiences should end up being shared ones, either in person or through stories swapped over a coffee or drink.
Here's to more stories of scooters, of riders, and the open road – and the home I hope they will find in Scoottoronto.  We hope you enjoy being along for our proverbial ride, when you aren't out on a real one.
Yours,
Jamie L.