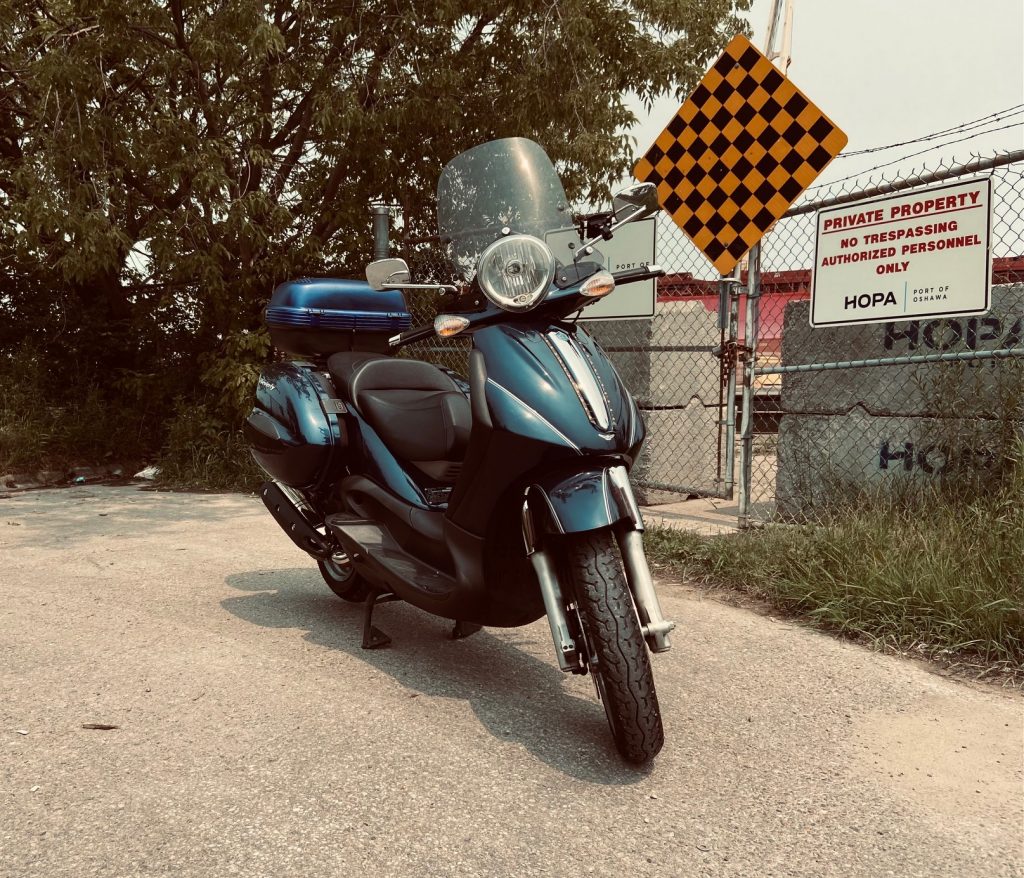 I tried to stay away from Italian scooters, I really did.
I've owned a lot of Piaggio scooters over the years – P series Vespas, from a PX125 to a P200E with an Inder sidecar. I've driven as daily drivers commuting to work, I've taken them in the now defunct Mad Bastard Scooter Rally. I've cleared out stuck carbs, fixed clutch cables at the side of the road and jury rigged 30 year old Italian electrics and mechanics to keep the admittedly half-assed maintained machine going. I've even taken them offroading, with water crossings, hill climbs and rugged rail-trail terrain. (The P series having about the same ground clearance as a KLR650 interestingly enough.)
But despite owning several of these manual shift beasts, I've never ventured into the more modern world of Italian automatic scooters. I've ridden them, reviewed them, admired them in some respects – but never taken the plunge into that unique blend of style and functionality that is a Italian scooter.
Until now that is. A BV500 being sold at an offer that – if you'll forgive the stereotypical remark – I just couldn't refuse.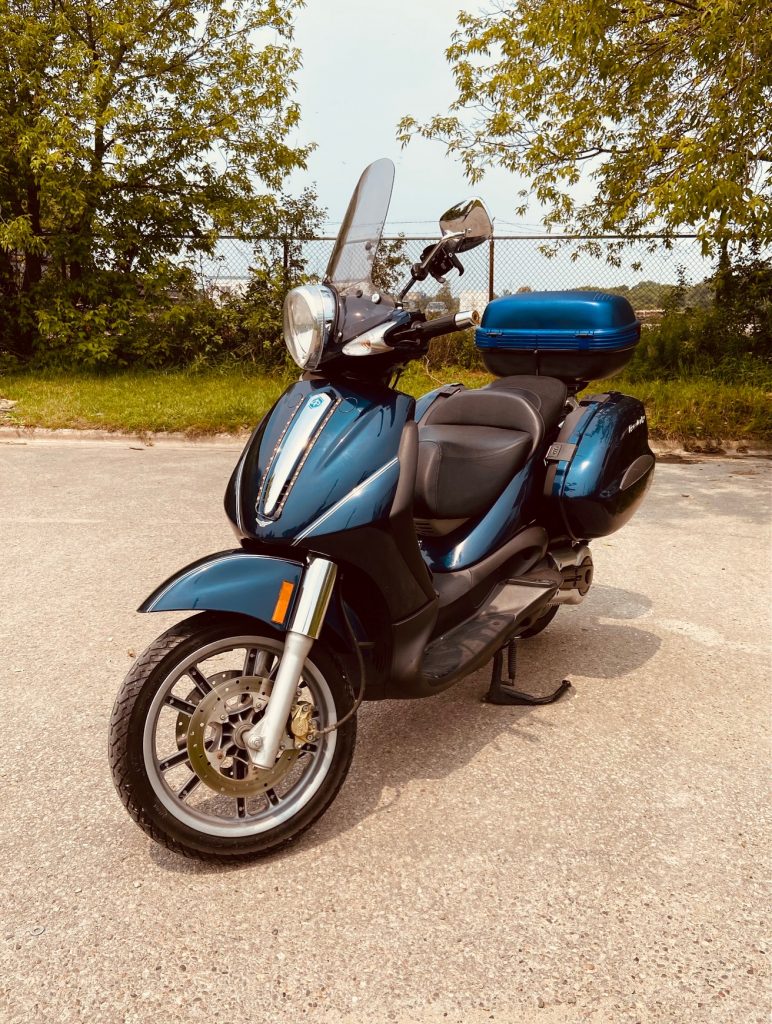 I was looking for a highway capable machine to replace my Burgman 400 sidecar rig. Something with two wheels, that could be loaded into a trailer for long distance road trip vacations (the setup for which will be in a series of future articles)
Something fast enough for the 400 series, but comfortable and nimble enough to use as a commuter into work.
And that is precisely when a 2006 BV500 being sold for $2250 caught my eye.
It was local to me, only 1.7km away from my house. Pricing was right. Mileage was low at 8,000km and it had been kept up by a meticulous owner. It even had the optional saddle bags and a topcase – giving it lots of storage.
The owner was getting out of riding, he'd been into bigger bikes and then downsized to the scooter – but his knee wasn't cooperating, and despite the obvious care put into the machine (Battery tender, regular oil changes, fresh rubber periodically, all the services) it wasn't something he was going to be able to keep using – and he thought it should pass onto someone who would use it.
It was in great shape – no marks, no paint damage, everything worked. It had heated grips, a cellphone holder, and came complete with battery tender and all of the original manuals and toolkit.
I probably should have haggled. I think he more wanting someone to ride this machine, to take it out more so it didn't languish in a garage.
It wasn't made to stay still. This is a touring scooter, it was made to get some miles on it.
It was made to see places, to enjoy things, to ride.
And that is what I intend to do with it.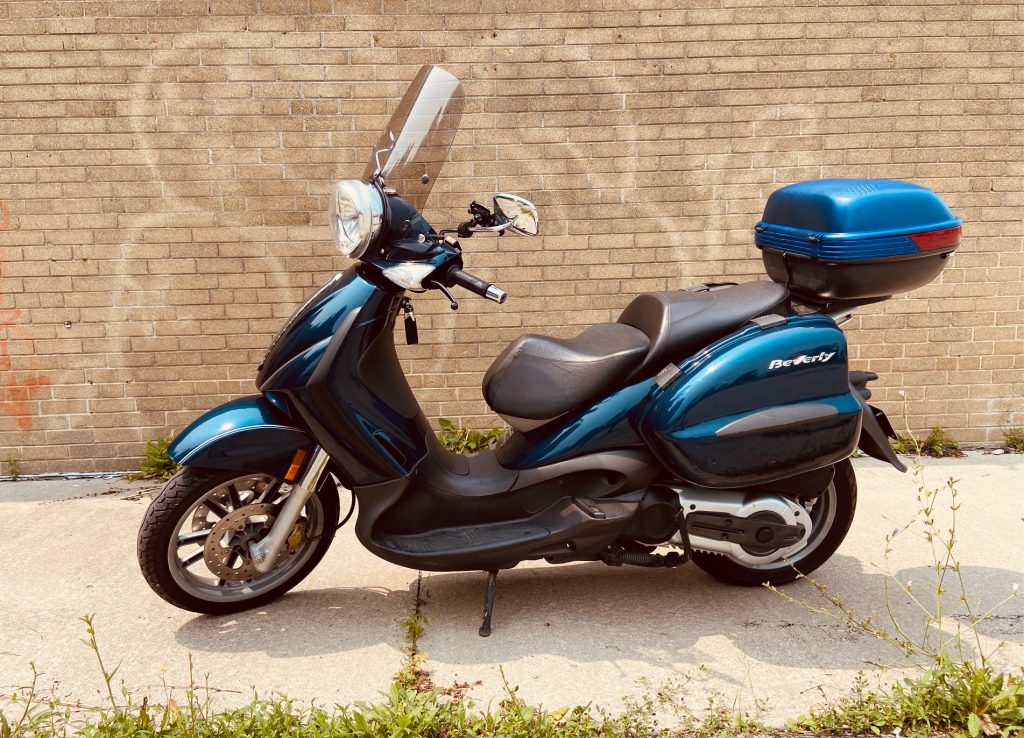 The Specifications:
Model and Year: 2006 Piaggio BV 500 (known as the Beverly 500 outside North America)
Engine: 4 stroke, single cylinder liquid cooled SOHC with a displacement of 460cc.
Power: 39 HP (28.5 kW)
Fuel System: Carb
Front Brakes: Dual Disc (with a caveat)
Rear Brakes: Single Disc
Dry Weight: 190kg (418.9 lbs for the 500 model)
Wheelbase: (1550 mm (61.0 Inches)
Fuel Capacity: 13.5l (3.57 gallons)
Reserve Fuel Capacity: 3l (0.79 gallons)
First Impressions:
This is part one of a two part review, with longer term impressions given in part two later on.
First off, The Beverly came in a variety of engine sizes, from 250 to 500cc. As mentioned, I've picked up the 500 (really 460cc).
It has a seat height of 30.9 inches, with a stepped seat making it more comfortable carrying a passenger but also locking a rider into position – taller riders will not be able to slide back to make more leg room. Still, it fits me reasonably well at just over 6 foot, so this won't be an issue for too many riders.
The seat is comfortable – well made, as would generally be expected from a PIaggio product. The foam is still spongy 15 years after manufacture and the seat cover is in perfect shape – though this one has spent it's life with garage storage most of the time so it's been less effected by the weather than some would be.
The Brakes are linked in an interesting way – one lever controls the back brake and a single front disc, and the other lever controls the other front disc. This means you can apply back and front braking with a single lever, but need to pull both brake levers to get full braking on the front.
I'm not convinced of the utility of this – I've seen mention it makes the setup makes them harder to bleed, and I'm unconvinced of the utility.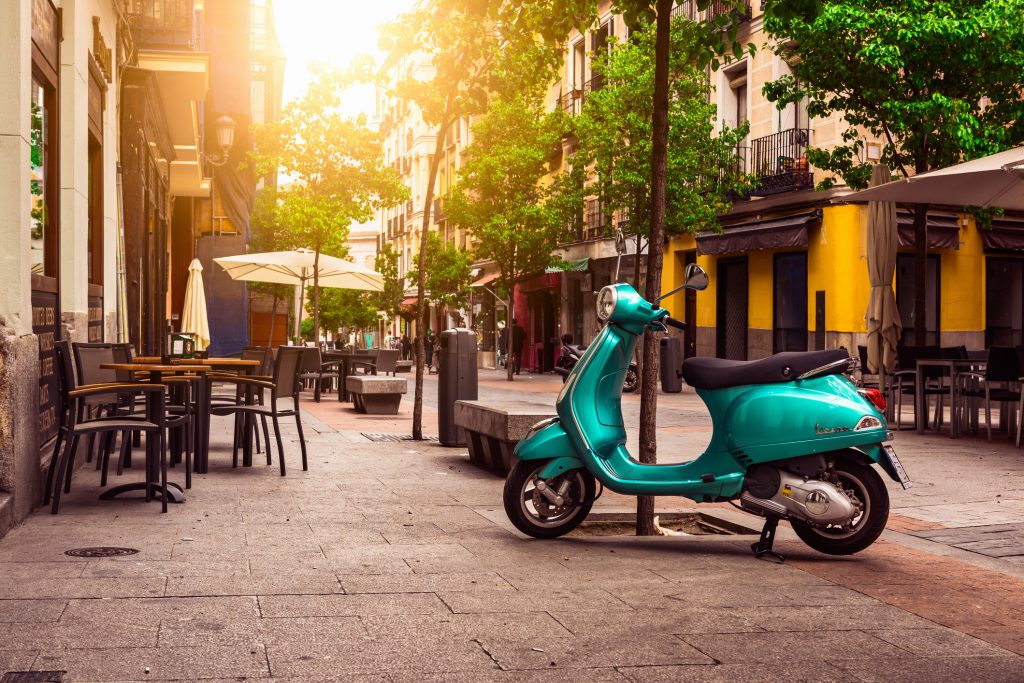 It may be so you can ride with your favourite beverage, or to casually wave at your admirers as you ride along with Italian styling, but in either case I'd probably have voted for a simpler setup. However, as with most motorcycle manufacters (and to their great detriment I personally think) I was not consulted and my vote was not counted.
Suspension is very good – my first highway ride involved going through a construction zone with grooved pavement and it handled that and the occasional crack and dip in the highway without any drama or discomfort. It's not precisely sporty feeling compared to some scooters, but it is very at home on the 401 on the (rare) occasions you manage to get up to the speed limit. And it has power to go past that, up to a reported top speed of 160kph or so, though I won't be likely to get it up to that anytime soon. (If it still has it, a few ponies may have escaped over the years, but the power definitely still feels solid.)
The under-seat storage is a little bit shallow and oddly shaped on the 500 – I suspect it would be better on some of the smaller CC models. It's adequate, just don't be expecting to put a full face down there unless your head is the size of a lima bean. The top box solves this issue, and the additional optional side cases allow for a large amount of storage when everything is factored in – certainly enough for gear and luggage if you plan to take it out of town.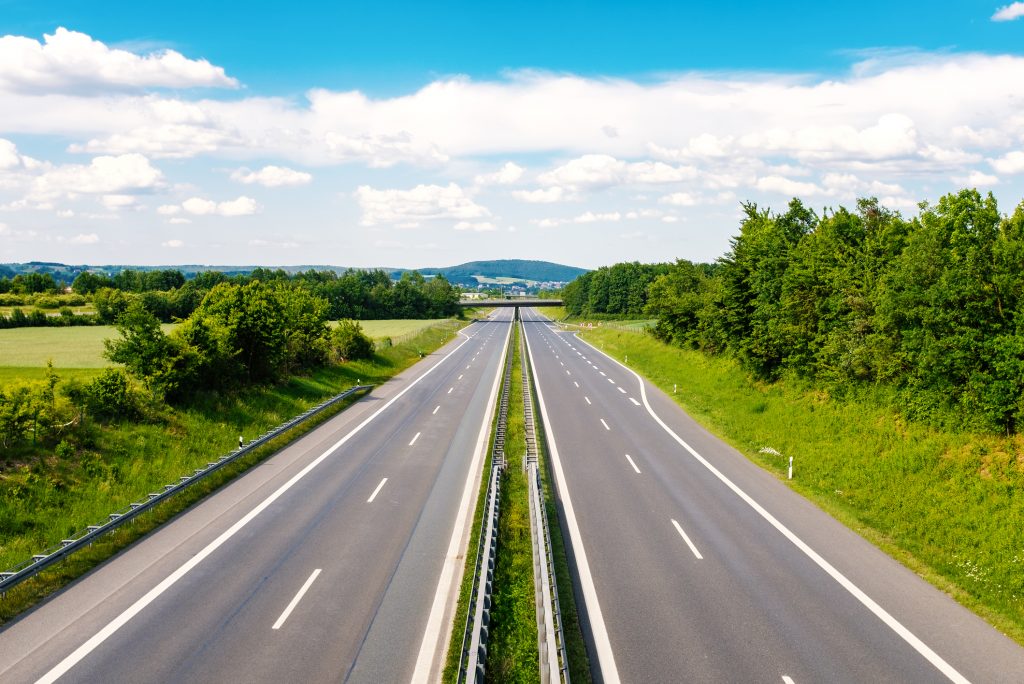 Plans:
My wife and I are currently planning for a few longer road trips with our minivan camper setup, and we plan to bring along the BV500 plus another scooter still to be obtained in a trailer. (This setup will be documented in a later post)
It'll get used for quick lunch trips, errands, running around urban centres and running 200km up to the cottage. On trips, it will be used for riding everywhere from sea level to mountain elevations – as we're planning for routes right across Canada – and with the 460cc engine I should have enough power to handle any terrain the tires and suspension will.
If I decide to go the motorcycle camping route (always a possibility) I have room to carry camping gear and luggage and wet weather gear without an issue.
Things to watch out for:
As mentioned, it has been well maintained and everything is working very well indeed – but it is a 15 year old scooter. Electronics have been known to go, and as this machine has the modern Piaggio/Vespa immobilizer system that could strand it.
Though used parts seem easily available and some aftermarket if needed, so I don't think a failure would sideline the bike for long.
There was a fuel system recall for 2428 Bv500 scooters from 2006-2008 (Fuel hose coming loose, causing a loss of fuel pressure and engine stalling and possible a fuel leak with all of the hazards that come from that.) If you are purchasing one of these, it may be something you want to verify has been done, and an inspection of the fuel hoses might be a good safeguard.
And of course if you get one that is low mileage – make sure the tires are in good shape and less than 5 years old ideally, same for the drive belt if possible . With low mileage machines sometimes these parts will not have been replaced and they may become brittle with age.
With a drive belt, this could cause it to snap at an unfortunate moment – usually this won't be a big issue but it will strand you somewhere you may not want to be.
With tires, this can be more serious – old rubber can be hard and not give you proper traction. With a much smaller contact patch than a car, you want to make sure the rubber hitting the ground is doing the job when stopping and turning.
First options:
I'm happy with my purchase – it's fun, it is versatile, and it seems well built with that unique Italian style – even if it isn't as classically pretty as the Vespa series of scooters. It's still an eye turner, and while that isn't my first check mark on the want list, it doesn't hurt.
I'm looking forward to putting more miles on it – and as things gradually open up as we (hopefully) continue to get out of this Pandemic mess, I hope to take it out to different areas and different events.
It's been put away in a garage for most of the time for too long.
I know it's just a machine. It's a geared object of explosions and electrons, using science and engineering to push itself into a new location with a twist of the handgrip.
But I can't help but feel it's been wanting to move, to run, to ride.
And I have every intention of taking it out to see the world it hasn't had much opportunity to see for a while.