What is the Junk Run?
The Junk Run is an informal event where you buy a scooter (used) for less than 800 bucks.  The machine must be street legal and in reasonable mechanical shape – because it'll be truly tested during the day's ride..

Riders then take the scooter for a run on an off-road trail, seeing just how much of the trail they and their machine can handle.
It'll finish up some some camping, camraderie and several people asking "Why did I do this to myself?"
Details:
Date: August 8-9th, 2020.
Location:  The Park to Park trail, which runs from Algonquin to Killbear.
Registration Fee:  We will have a small registration fee to cover the campsite, campfire dinner on Saturday night, and a Tshirt – around $40CAD.
Riders will purchase their own trail pass and will "ride their own ride" – this isn't a race and we're just seeing how far we can go without breaking either ourselves or our machines.  Trail passes can be obtained from a few area locations or online from $25 for a day pass, though there are multi-day, weekly, and yearly passes available. – see http://www.parktoparktrail.org/trail-passes for further details.  Riders *MUST* have a trail pass to participate.  (On a side note, if you enjoy offroad riding or enjoy ATV riding – buy a yearly pass – it's seriously a great trail and well run, and all the trail pass money goes to trail maintenance.)
Schedule:  Details TBA – there will be a morning meetup followed by an early start to the ride.   Lunch meetup TBA – might be a picnic lunch affair and bring your own lunch but we'll likely be stopping at a restaurant along the way.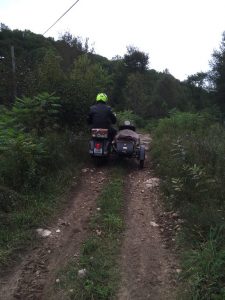 We wlll have a campsite BBQ/campfire to end the Saturday, with a dinner provided as part of the registration along with a spot to put your tent..
Contact info:  You can go to the Junk Run facebook page at https://www.facebook.com/TheJunkRun/  for some of the latest discussion and details.  You can also email the organizers by using the Scoottoronto.com contact page.
Keep an eye out here and on our facebook page for updates!