Dear Mad Bastard Scooter Rally;
Over the years we have had a complicated relationship. You've left me stranded on a broken scooter, without cell signal, eaten alive with mosquitoes and waiting hours for a tow truck.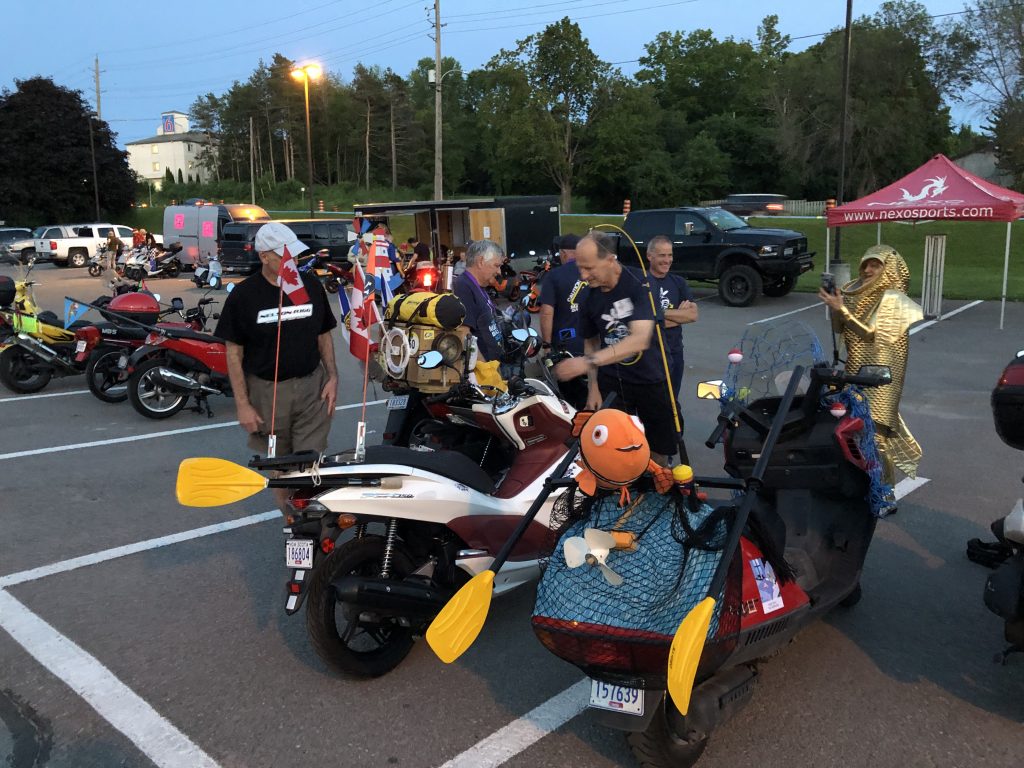 You've had me laughing my head off at people dressed as Vikings, as cows, as martians and comic book characters.
You've shown me great beauty, wonderful roads, and led me to discover places I would be unlikely to have discovered on my own. Without you, I wouldn't have had the courage to ride a scooter in Tel Aviv (which ended up being during a missile attack, but perhaps that is what you get from getting inspiration from the Mad Bastard), or drive a rented sidecar around the south of France. You have made me a better adventurer within my own life.
And now what we have has come to an end – after a weekend of strange costumes, sores in unusual places, odd looks and little old ladies finding Waldo and being entirely unpleased with him. It's over, we're done – there will be no more Mad Bastard Scooter Rally.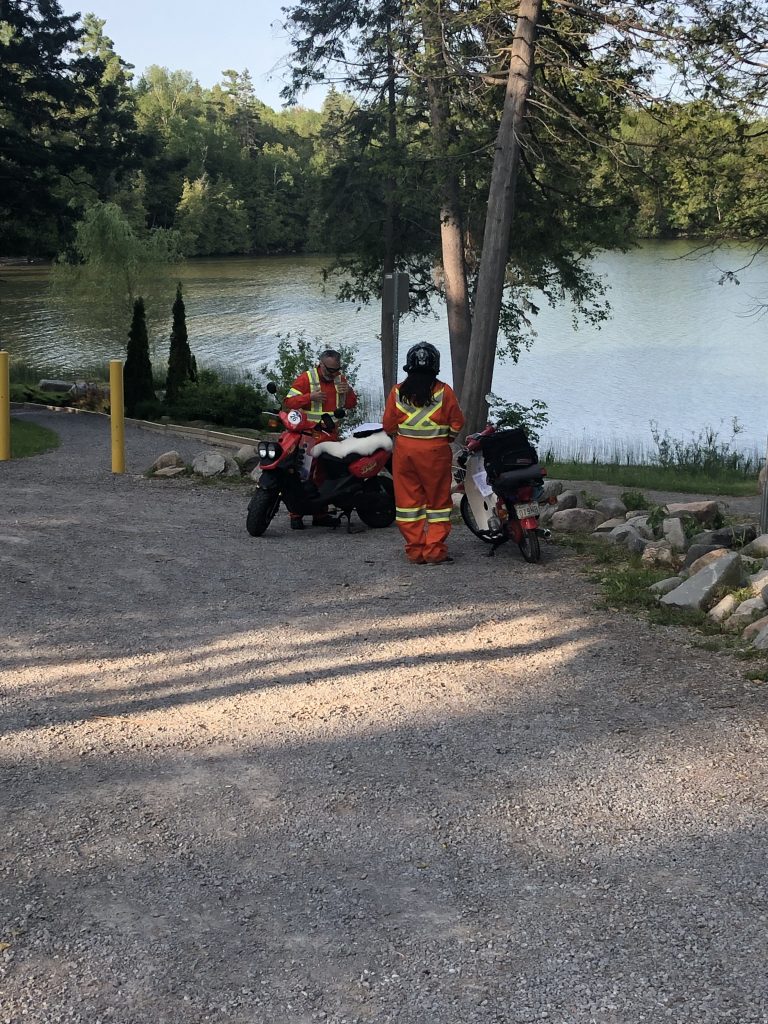 And with all of that, the madness, the discomfort – I still want to say: Won't you give me another chance?
The Mad Bastard Scooter Rally – if you've missed mention of it in all of my other Scoottoronto posts – is a charity scooter rally that has been running since 2004. (The first one being a ride around Lake Ontario on 50cc scooters, and it evolved from there.) It was started by Rob Harris of Canada Moto Guide fame, and evolved into a rally with (at times) over a hundred riders and machines and a route that varied from 523km to over 800 (with bonus loop. You can find out more about the history of the rally at https://www.madbastardrally.com – so I won't go into all the details here.
I started back in 2007, riding a Kymco Bet and Win 150 and being relatively unexperienced at travel outside of Toronto. I was accompanied by my wife Cindy, who has been with me on every rally since then. We've done the 2007, 2009, 2011, 2013, 2015, 2017 and finally the 2019 rallies – it has been a big part of our lives.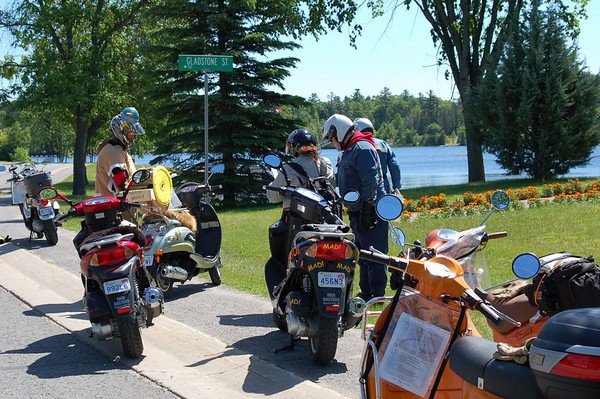 At the end of the 2009 rally, during which I blogged heavily and wrote about my preparation and thoughts – I was asked by Rob Harris to write up a "Rider's Perspective" and this led to several years of writing reviews and articles for Rob, mostly with a scooter focus in my case. You can find that at http://canadamotoguide.com/2009/07/03/mad-bastard-2009-a-riders-perspective/.
Those years of writing for Rob and reviewing and riding scooters in various events is the main reason Scoottoronto exists today.
All of this is a long introduction – absurdly long, but it's a bit of an absurd event so that fits – to my report on the 2019 MBSR rally. The Last of the Bastards, as the organizers at Beco Motors are no longer the Kymco distributors in Canada and without the sponsorship this relationship allowed the time and money it took to run the MBSR is no longer available.
So this year, this last weekend, the MBSR has come to an end. But it went out with laughter, a long ride, and a chance to be with people who have become friends. Odd friends, certainly, but friends. This year started off at the HQ at the Best Western Plus Otonobee hotel in Peterborough, ON.
We would be riding our 2006 Suzuki Burgman sidecar rig in the "2 Up 2 Crazy" class, which is a class for people riding two to a scooter – and would have 16 hours to complete the 523km rally course. Time on the MBSR is dependent on your engine size – 50cc or less and you get up to 24 hours to complete the rally course (and bonus loop of 106km for extra points, if you can.) Bigger scooters get less time due to their higher speed capability.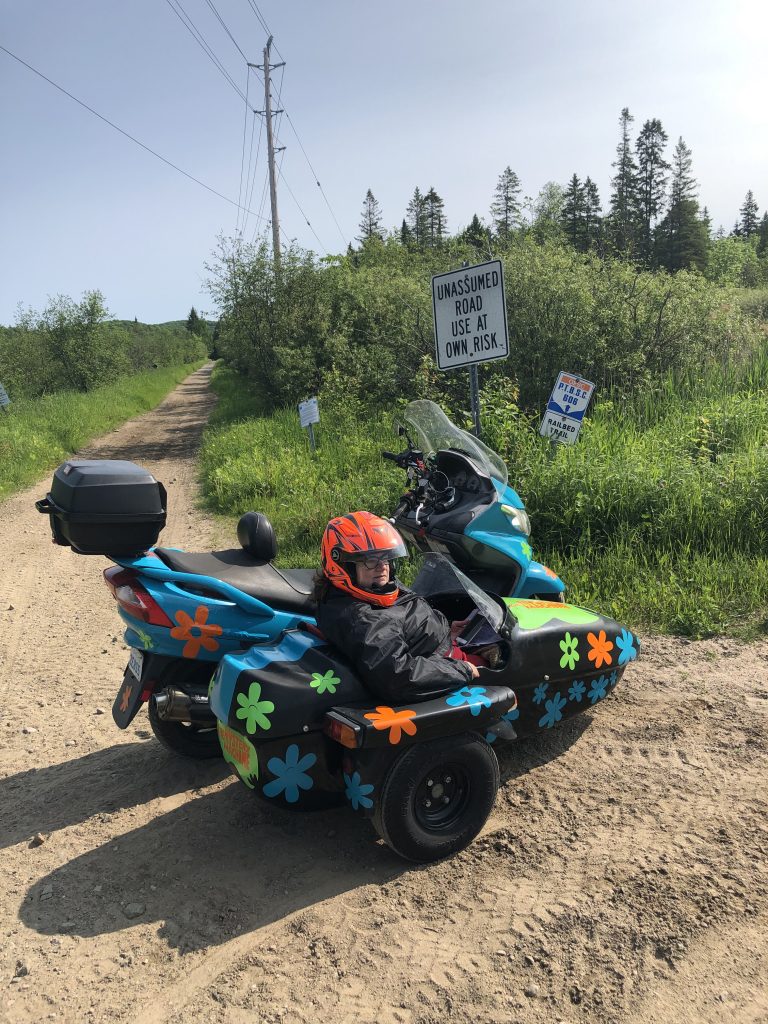 But that speed isn't necessarily an advantage – the rally is on back roads and low speed ones whenever possible. You spend a fair bit of time doing challenges, solving riddles and taking photos in a crazed scavenger hunt across the whole of the rally course – so losing time means you are in a constant rush, going from stop to stop and trying to figure out how to manage both the ride and the potential points.
Friday night was arrivals, greeting family and new faces in the parking lot, and a dinner (with our rally costumes on) followed by a mandatory riders meeting, during which the course would be revealed. This gives you a choice – do you lose precious sleep and program the course into a GPS? Or do you follow the riding instructions on the fly, and have to stop and navigate or try to memorize as many turns as you can?
Saturday is the start of the rally – as early as 3:30 for the 50cc machines with the bigger machines leaving later. We were in the maxi scooter aka "Day Release" class (above 250cc) and left after 5:30 – so we had the luxury of actual daylight for our start.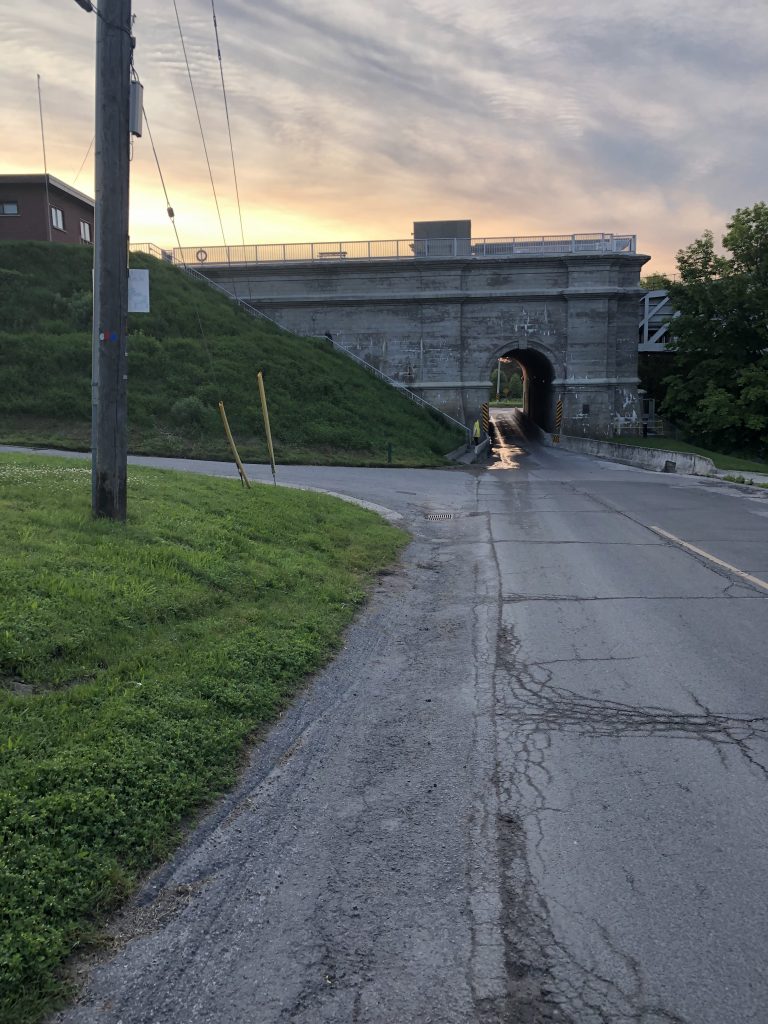 What followed was a crazy, wonderful day of riding – all the side roads from Peterborough up towards Gooderham, looping around to Barry's Bay, then running from from small town to small town (even the Hamlet of Switzerville, population 11 – which was one of the challenges since you had to find the road size for this tiny place.)
The organizers did a wonderful job – throwing a lot of challenges at us to make us run around on a mad scavenger hunt. We were taking photos with wildlife, getting town signs on camera, and convincing locals to pose with our bike. We had stops along lakes, on public beaches, in parks and at monuments – and we discovered the odd nooks and crannies of the province that showed the absolutely *huge* amount of time and effort that goes into planning the MBSR rally – there is a reason after all it runs every 2 years.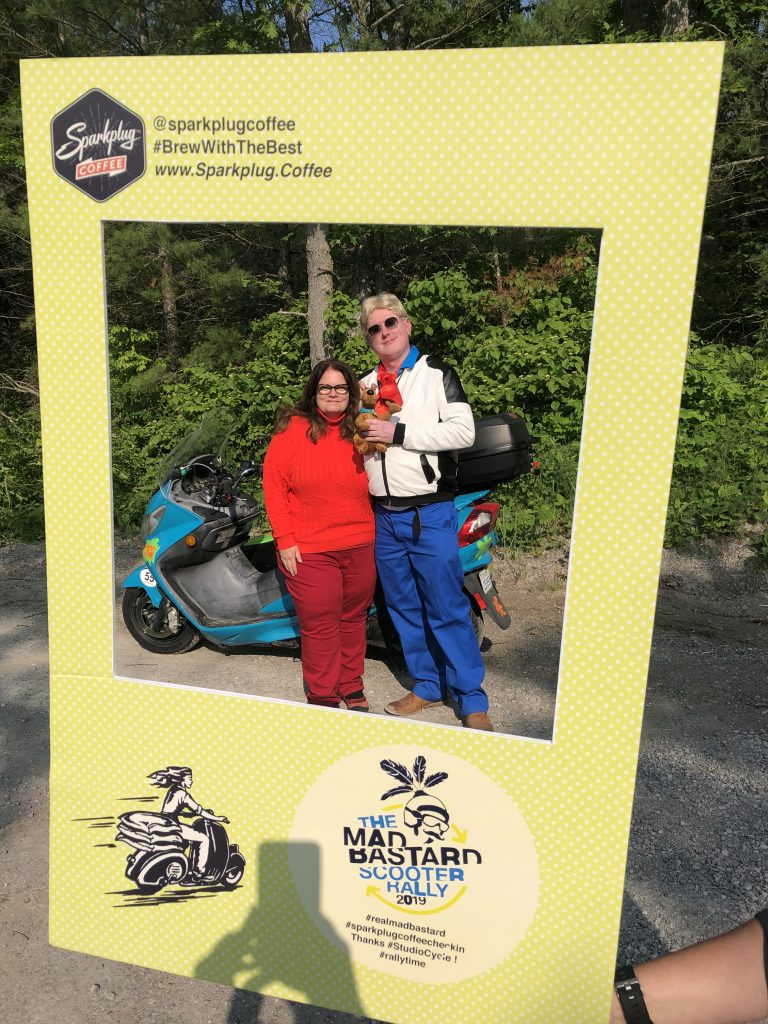 You just can't fit the planning into a single year – it's a bit effort by the organizers and this year especially – the effort showed.
We finished up at rally HQ around 14 hours and 15 minutes into the rally – not leaving us enough time for the Bonus loop which would have added another 150 points.
But that is ok – for me at least, it was never about the points, or winning.
At the end of your ride you end up in the HQ room, surrounded by people in odd outfits and the remnants of motorcycle gear. Some are wiped, barely able to move. Others exuberant, looking ready to tackle another 500km. All are smiles, all are laughing and trading stories.
Sabina Heilman and Carol Anne Mandelic, the Co-Rallymasters, were there to take our clue sheets and total our points, gather our pictures and figure out who had won – giving up anything but the faintest trace of sleep over most of the weekend to keep things running.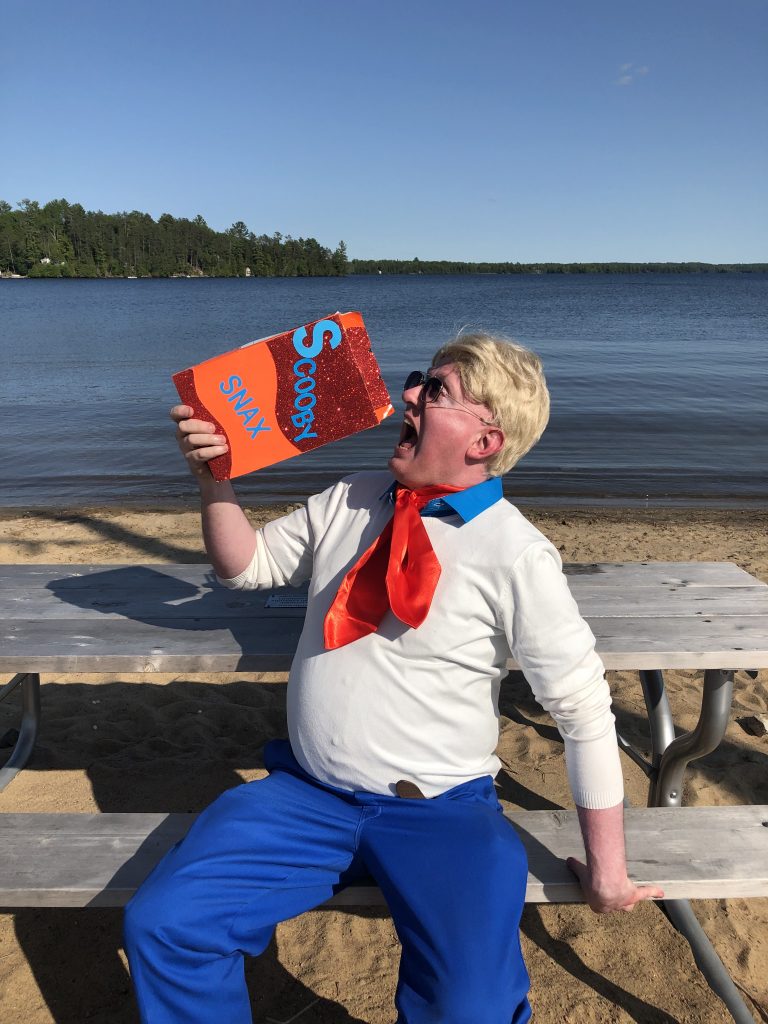 The volunteers who run the MBSR deserve a huge amount of credit in fact – there is a whole team from BECO motors and Studio Cycle Group in Toronto who give up a huge amount of time to run the MBSR – and the effort they put in is amazing. I'm grateful for the years of the ride they have given us, and this last run they decided to put on even after KYMCO was no longer a sponsor – even coming up with a new-old stock Kymco scooter as a prize.
They didn't have to do that – they didn't have to take time for a last hurrah – let alone making it one of the very best of the Mad Bastard rallies. But they did – paying a cost in sleep, in lost weekends of planning, and time over two years to bring us this event.
Several of the Studio cycle staff even stayed up late on the Friday evening to fix a Honda Dio 50cc scooter belonging to Gregor Moss – who was encouraged to get his malfunctioning machine to the rally any way he could and they would assist in getting it running right. And they did, working in the dark with flashlights, tracing down a bad ground and diagnosing electrical issues under the most primitive of conditions.
Odd how events like this change the definition of "Bastard" to something entirely different.
After finishing with our clue sheets and pictures, we grabbed a quick dinner and went to bed – to sleep deeply, and well.
The next morning was the wrap up brunch and awards meeting. We mingled, traded stories, and awards were handed out, as well as the results of the charity fundraising – over $12,000 was raised for the Big Brothers and Big Sisters of Peterborough.
The big winner was scooter rider #25, George Reichert – riding an Aprilia SR 50 and a newcomer to the rally – who definite brought his "Mad" to the event.
And, surprisingly enough, I ended up winning (with my wife, Cindy) the "Rob Harris Spirit Award" which is a bottle of his favourite scotch.
Two rallies ago, just after Rob gave up control to BECO of the Mad Bastard Rally to BECO, I got a message from him to give him a call on the Monday after the rally.
He was torn – he had to give up the rally due to the time needed to organize it, and BECO seemed a good choice to take things over as they had been helping to run it for a while. But it wasn't easy stepping away entirely from something he had put years of his life into. He wanted to know how things went, we talked about the rally and I assured him that, while there was a couple of missteps as new things were tried – they had thrown themselves into it and had really dedicated themselves to making it the best possible thing they could.
He had stayed away from that rally – he didn't want to overshadow the new organizers – but he mused about riding the next one, finally getting a chance to experience it as a rider again (which hadn't happened since the original rally.)
In a great tragedy for all of us, Rob died in a motorcycle accident before this could happen. We lost a great voice, and for anyone who met Rob – we all lost a friend.
But I like to think he was with us in spirit these last two rallies. And even though the MBSR has come to an end – I'll be thinking of some appropriate way to share the bottle of Scotch I received with the Rob Harris Spirit award.
I'm thinking next year, for the 2020 Junk Run offroad scooter run – I might need to crack that open and share it around the campfire.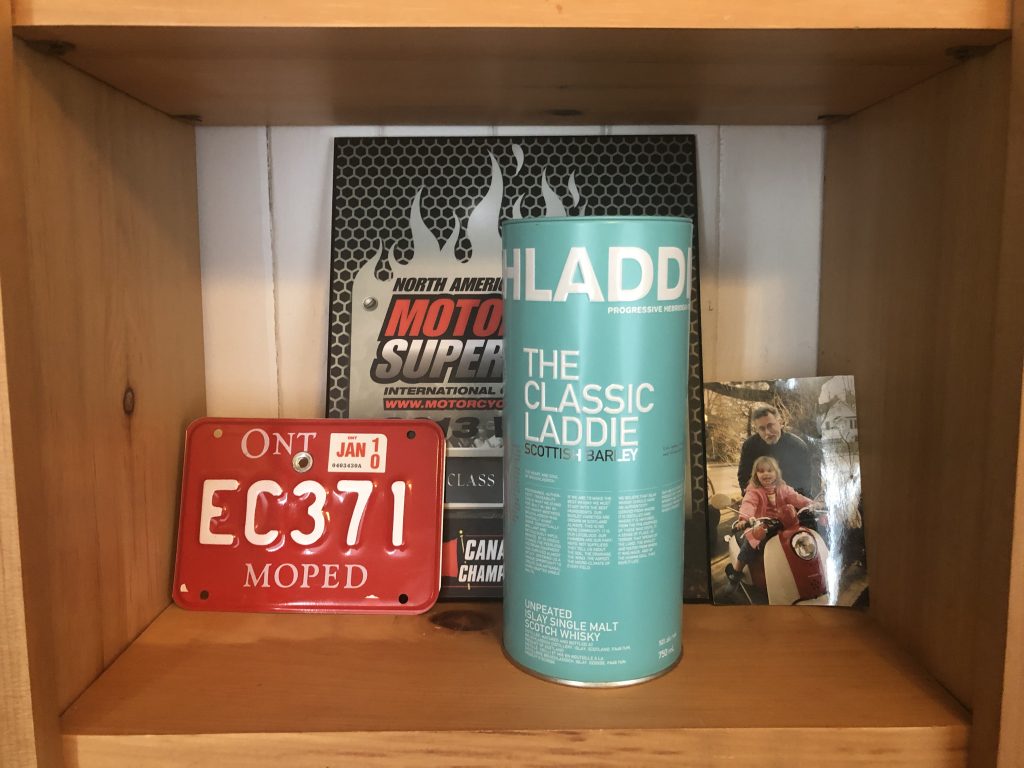 Because that's another event that wouldn't have existed without my writing for CMG and for Rob, and another thing Rob would have appreciated the madness of.
So in this letter to a Bastard – I'd just like to finish by saying that a Bastard changed my life, made me a better writer, a better rider, and a better person – and then left me on my own, years later.
And I couldn't be more grateful for the time we had along the way.
Goodbye MBSR, you and the people I have met through you – will always be something special to me.