Hello readers, internet bots, and people who somehow go to Scoottoronto while searching for obscure internet porn.  (And no, I'm not going to describe what I am wearing.)  It's time once again for a "State of the Scooter" update.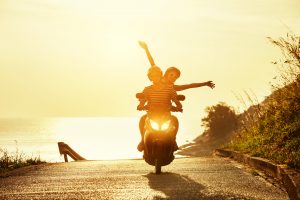 This winter has been an unusual one for me – the first I haven't been commuting on my Burgman 400 sidecar.   A fact that has led to some serious scooter withdrawal on my part.
Since our relocation of the Scoottoronto HQ to Oshawa, the commute has been lengthy enough to make winter commuting impractical.  (In Toronto, I could take side streets when the conditions were bad, carpool with my wife, or take the TTC in  real pinch.)  This means that as of November, after two and a half decades of two (and three) wheeled ownership, I had to finally get around to getting my G2 license and getting a car.
Which means I am the proud (second) owner of a 2011 Nissan Versa with a CVT.  Which makes it just like a four wheeled scooter, right?  Right?  Well, admittedly no.
I'm still getting used to driving a car – as a lifelong motorcyclist and scooterist I am *very* aware of the limitations of perception and driving a car feels restrictive in what I can see and how aware I am of the environment around me.  Which feels unsafe.
It's also been interesting getting used to driving a larger vehicle – though here the years of sidecar experience has helped, since I wasn't exactly lanesplitting while driving the rig anyways.  Even with a smaller car (one of the reasons I chose the Versa) I have had to be aware of the extra length and width – be aware of the blind spots, etc.
It's been an adjustment, and the extra fun weather this particular winter hasn't made things easier.
Fortunately I've been saved by years of traction paranoia gained from driving a sidecar rig – if you ever drive a non symmetrical vehicle in low traction conditions you *quickly* learn how to manage the traction you have – and also the immediate installation of winter tires.  Between those two things, I have so far managed to avoid suddenly being intimately introduced to the nearest ditch.
So, basically I've been going for *way* longer than I usually would without a scooter ride, and I'm looking forward to the hopefully imminent arrival of non frozen weather so I can change that.
With that in mind, I've begun thinking of what will be coming up for Scoottoronto this year.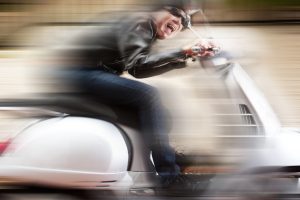 First of all, as you will already know if you have been reading along we have the 2019 Mad Bastard Scooter Rally happening in 2019 (the last one, so this one is of particular importance to me.)  We'll be covering our preparation and ride so you can follow along.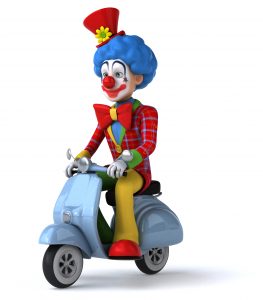 Secondly, we're thinking we might organize a monthly scooter dinner meetup if people are interested – we have a favourite restaurant in Whitby with a nice patio setup and amazing food that would make a handy choice for scooter related socializing.  We'll announce more on this as we get closer to outdoor weather.
We're thinking our vacation *may* be scooter related this year with a lengthy road trip, so we may have a cross country long distance scooter ride report to share in August.
We're also planning a lot more reports on weekend getaways and destinations.   We'll be doing some exploration of Ontario and letting you know some places to visit.
2019 will also be the year to do some planning for the 2020 incarnation of the Junk Run.  With the MBSR going away, we need to do something to get in our scooter madness after all.
There's more in the pipe – but you'll be hearing about that later in 2019.
For the meanwhile, for our poor scooter deprived readers in Ontario, Canada – get out to the garage, sit on the silent two wheeled beast and make vroom vroom noises for a while to try and at least get yourself into the scootering mood.
It'll be time to make the noises real before you know it.