Hi all, and sorry for our inactivity the last couple of months or so.
In the time since you last got a Scoottoronto update, we have managed to sell a house, buy a new house – and go through the craziness of moving out and then in.
Thankfully, most of that process is now out of the way – and we can catch up on a few different things and plan some activities for the 2019 riding season.
For example – we're looking forward to Lawrence Hacking's Overland Adventure Rally (usually early July), the Mad Bastard Scooter Rally (Mid June) and #TheMotoSocial's camp event (assuming they hold it again this year, last year was the first time for that event.)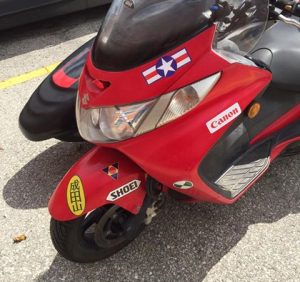 We're also going to be reporting on several weekend ride destinations, and are going to be trying to do a scooter based trip for our vacation as well should circumstances allow – so you might see an east coast ride on our Burgman 400 as a ride report.
We have a few gear reviews to do – some riding suit and winter weather riding gear, among others.
All in all, we are looking forward to warmer weather and the start of long distance riding in 2019 – getting our machines out of the road and enjoying exploring through Ontario and beyond.
So keep an eye out for a Burgman 400 and sidecar – which for reasons I can't explain *quite* yet might resemble the Mystery Machine from Scooby Doo.
You'll have to keep an eye out in the next day or so for the piece that explains why.
We will also have a couple of other pieces coming in over the next week or two – so keep an eye out for those as well.
See you out there, scooterists.