Well last weekend we scouted out the park on a Kymco Bet and Win 250 scooter, a Kymco People S200 scooter, and a KLR650.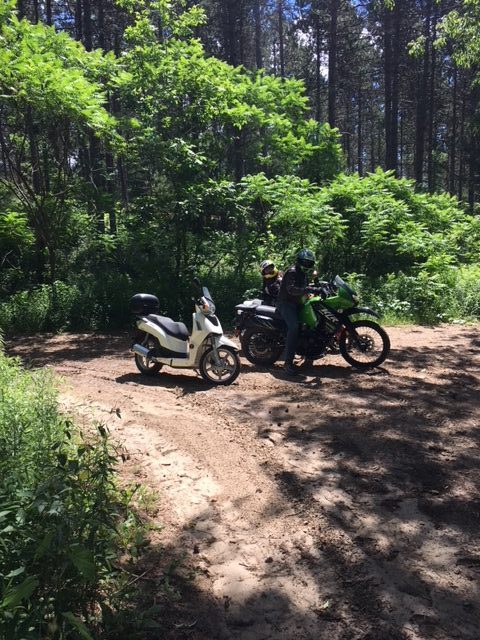 The scounting went quite well, and we are all set for our informal ride on Saturday, July 21st.
We will be keeping this a somewhat informal event, and the ride length will partly be determined by how people are feeling and general conditions during the day – we're keeping things flexible.
General Conditions:
The scouting did reveal that many of the trails are sandy in nature – so expect to be a bit wobbly as you hit the soft stuff, but at least it doesn't look like we will be dealing with deep mud pits.  (Wider tire scooters may do fairly well in the soft stuff as well, as we discovered with the 250.)
Where/When to meet:
Bring 30 dollars in cash plus an envelope.  If the gatehouse is manned you can buy a trail pass there, otherwise you can leave 30 dollars in an envelope to purchase your trail pass on the honour system.  *Don't forget this*
We will be meeting up at 9:30am on Saturday, July 21st, 2018 at Ganaraska Forest Centre at 10585 Cold Springs Camp Road.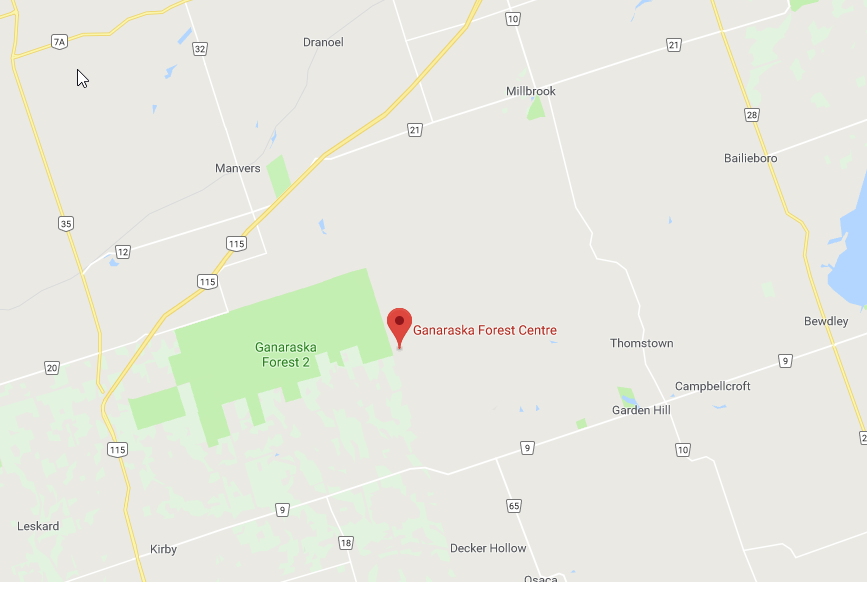 If your scooter is highway capable you can take the 401 out of Toronto to the 115 and up that way to the forest centre, otherwise there are several sideroads you can take to get there.  Google maps will be your friend here, but most side roads should be fine for a 60kph capable scooter – just be prepared to let impatient traffic by.  (You Mad Bastard Rally veterans will know about this.)
Here's a google maps link to the forest centre as well.  https://goo.gl/maps/Qq36oGT31rB2
For this ride we will be sticking to the West Forest.  (The center forest is no motorized vehicles)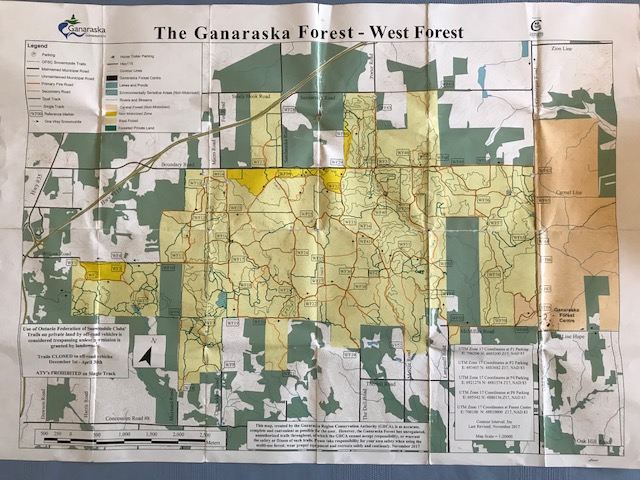 What to Bring:
30 dollars cash for your trail pass.
As full a tank of gas as you can manage.  There is no gas in the park itself, and while we won't be doing a huge distance you won't want to have to quit midway just because you run out of gas.
Suntan lotion/bug spray if required – though we didn't have much issue with bugs last weekend.
Proper safety equipment (Helmet, gloves, jacket, etc)  We won't be going fast, but some of the trails are quite rocky.
Bottle of water.
The Plan:
As previously mentioned, we will be meeting up at 9:30am.  We will wait until 10am and then leave straight from the Ganaraska Forest Centre onto the trails, going west and north, then south, then back towards the north until we eventually exit the park onto Boundary Road and go to lunch.
We will be spending approximately 2 hours for the morning part of the ride (depending on how long it takes us to get to our lunch stop.)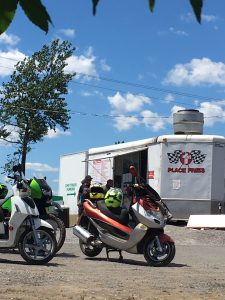 The lunch spot is at a Chip Truck at 3776 Boundary Road, Pontypool ON, L0A 1K0  (That's 5 minute outside the park and it is right beside a gas station so you can refill your bikes.)
After lunch we will continue the ride – the length and time will be subject to how people feel at lunch.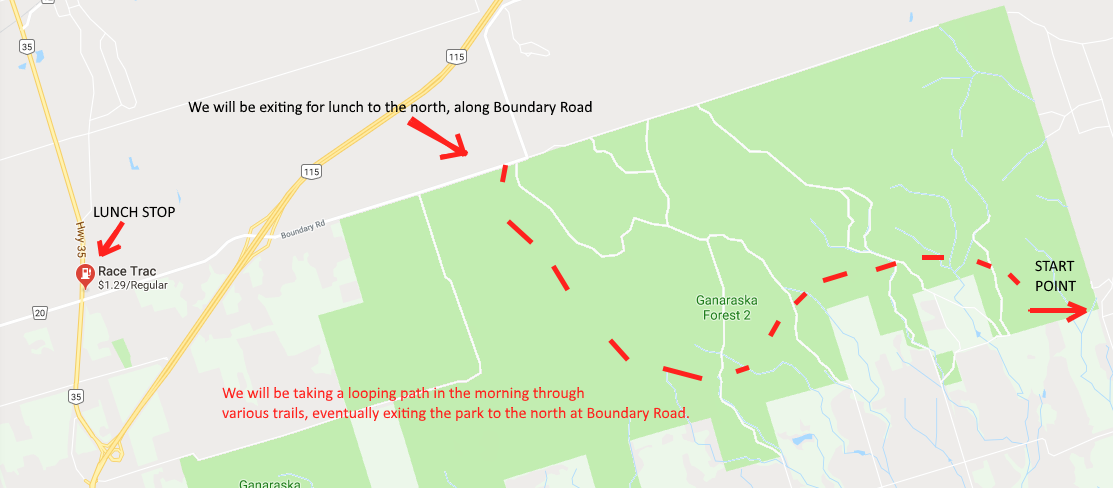 The Lunch stop and gas station google maps link is https://goo.gl/maps/t4FYtJVDPd32
The Ride – General Instructions:
The park prohibits loud bikes – so please only scooters with stock or close to stock mufflers.
If you meet a horse, the park instructs you to  pull off to the right, shutting off your engine and waiting for instructions from the rider.
We will be leading the ride in the morning – if you want you can split from us in the afternoon just please let us know you will be doing so, so we don't think someone has gotten lost or fallen behind from the group.
Please be safe and ride within your comfort level – you are responsible for your safety and we would rather ride or even divert rather than have someone ride past their limits.
In conclusion:
We are very much looking forward to next week, and I think we will have a great time!  Hopefully we have a few different riders joining us on our adventure, and this will be the start of a somewhat unusual, slightly insane and thoroughly unusual tradition we can continue with in years going forward.  If the squirrels don't eat us that is.
Once we get this one under our belt – we may do another and make things more ambitious!  (Assuming our prediction about the squirrels eating us all doesn't come true of course.)
If you have any questions or concerns, please email Jamie@scoottoronto.com