Motopiphany – a word I gleefully made up one day to describe a moment of sudden revelation or insight brought about in the process of performing the act of two wheeled motor-sport.  It'll be in the dictionary any day now I assure you.
Anyone who has been riding for any time at all has had that moment of Motopiphany – that instant that changed everything for you as a rider, as a traveler, and occasionally as a human being.  The moment between what you were before the ride, and the entirely different person you were afterwards.
I've had several moments like that – several rides that changed what I do on a machine, what I look for in a bike, and where I want to go.  Rides chasing ghosts, accidental rides through warzones and rally stages and closed mountain passes.  Rides that went through history, and rides that robbed me of words, and left me silent underneath an impossible blue sky.
Motorcycles and scooters force you to be in the world you are travelling through – you have no insulation from your surroundings and the side effect of this is that a single ride can have an impact greater than you might realize.
This series is the story of some of those journeys.
The first ride that changed everything was probably my least impressive machine – a 1970's Bombardier Puch Maxi moped.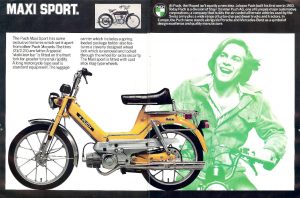 I was raised in downtown Toronto, a child of the streetcar and two footed transport.  For me, even the north of the city where bus lines grew fewer was equivalent to that place on old maps that said "Here there be dragons" – someplace you didn't go, that no transport led to, and that essentially didn't exist.
I never saw myself as an owner of a motorized vehicle – until I met a girl named Rose on a bright yellow Puch moped.  Due to the usual youthful stupidity and shyness things didn't go anywhere with the girl, but the moped itself got stuck in the back of my brain and several years- and I found myself looking in a buy and sell magazine (yes I am dating myself) for an inexpensive moped.
I found one – also yellow, also a Puch, with a slightly iffy clutch and weak acceleration that was to me then,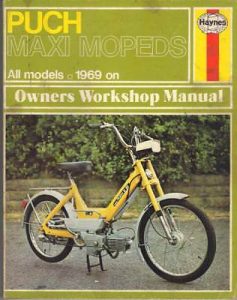 absolutely terrifying.  (As were girls like Rose, but fortunately owning and driving a moped tended to keep most girls at a fairly safe distance.)
In those days you could drive a moped with any license – so I kept taking the written test and getting my learners permit and riding that way.  Insurance was cheap, since mopeds were viewed as barely more than a bicycle – but for me that machine was…. terrifying, frightening and wonderful freedom.  A yellow pill that led me to a world that could not have been explained, only experienced.  Except I did look somewhat less cool in a full leather outfit.
I still remember my first ride, the day the machine was dropped off I put on a used helmet (didn't know any better) and a jean jacket and no gloves – all terrible ideas that make me wonder how I didn't manage to lose more flesh and brain cells than I did – after a brief lesson in pedal starting the moped with a cloud of blue smoke, I wobbled into traffic and changed my personal history.  And also learned just how much sweat a human body could produce while pedaling uphill in a desperate attempt to not be run over by the car 6 inches from my rear tire.
All of a sudden I was taking that machine everywhere – I was exploring the city, reaching the outskirts of Toronto.  Which seemed like a great distance at the time – I later learned how long distance travel has the strange side effect of diminishing great journeys into minor side trips, making unimaginably exotic places like Pickering into something that's practically a few streets over.
Life, as it annoying does without asking permission first, happened.
I was travelling to see my daughter, and I had moved a greater distance from work – the old machine with its' slipping clutch and inability to accelerate on hills proved just too anemic for me.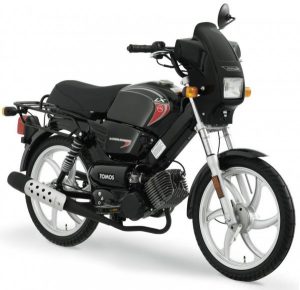 This led to a new Tomos TTLX 50cc moped with reed valve and I think an entire horsepower more.  I'm not sure how I controlled the sheer adulterated power
of that mighty untamed beast.  This led to a Honda Jazz, the Jazz led to seeing a girlfriend in Ajax, ON, which led to (after a couple more machines including a vintage Vespa) a Kymco Bet and Win 150 scooter and my very first Mad Bastard Scooter Rally.
After which, everything changed again.  Thanks to the mad creation of a gentleman who is very unfortunately not with us anymore – Rob Harris, the founder of CMG.
And that story will be in part two.  And yes it is likely to be just as rambling and incoherent.  A good story is a journey, and as with any journey it shouldn't be the point to get to the end as quickly as possible.
Unless you're an ambulance driver.  You should probably hurry then.
Stay tuned for part two…