Sometimes, almost out of nowhere you get an idea. You might shrug, dismiss it as impractical but the idea stays around. It lurks behind your doorways, waiting to ambush you when are least expecting.
For me the idea involved seeing just how far I could push a used and abused Vespa off-road – and it turned out that you could push it pretty far indeed.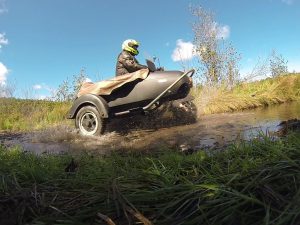 I did several trail trails over the course of a year, intending to eventually take it for an extended run on the Park to Park trail, but the first attempt failed when the Ural sidecar rig that we were intending to take as a chase vehicle failed, and the next year we had some mechanical issues with the Vespa that caused it to be sold.
I wasn't the first to think along these lines either – there are off-road rallies overseas which have the venerable P series Vespa (occasionally modified, but often stock) are run in extreme conditions, taking truly enormous abuse and (mostly) continuing to run.    As well, in 1980 a team of 4 Vespa P200 scooters entered the Paris-Dakar rally, and 2 of them ended up finishing.  (with a third just narrowly missing the cutoff.)   This same year less than 50 percent of all the contestants finished.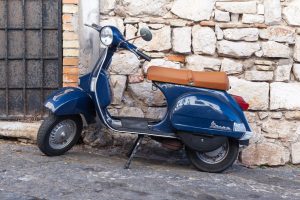 Not to mention the CT90… which reportedly started life because of Honda dealers modifying the Honda Cub 50 for offroad use by removing the plastic legshield.  And the CT90, while underpowered, certainly has hit its' share of trails.
So scooters *could* do it.    But should they?
Clearly they would take more abuse.  A plastic bodied scooter could shatter body pieces (which can be expensive to replace).  Those with a non sealed CVT would be reducing their lifespan due to increased dirt and dust causing greater wear.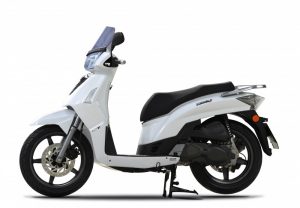 But then I thought of one of the great advantages of the scooter – the price.   Used scooters really don't hold their value… so could you pick up a used machine for say less than $800 and then run it off-road for a significant distance?   I quickly found a Kymco People S200 Scooter for $750  in unfortunately quite perfect condition.  It's unfortunate because it is unlikely to stay in that shape.  I then got my brother involved, found some other potential riders and started up a facebook page at https://www.facebook.com/TheJunkRun/
And thus was the Junk Run was born.  This year we'll be taking a group of riders (AKA lunatics) scooter riders on secondhand, low priced scooters and running them on some trails for at least 40 kms over the course of a day.
It'll be an informal event – but one we might repeat and get more people along for next time assuming any of us survive the first go.
And our Scoottoronto readers will be given updates all along the way.  You'll hear how we will be preparing for the event.  You'll see photos of the glory or the humiliation.
You'll see us on the Junk Run, and maybe a few of you will come along as well.  Look our for further updates leading to the event in July.
Junk Run Updates and Articles: