Scooters and Mopeds in Ontario:  Facts and Myths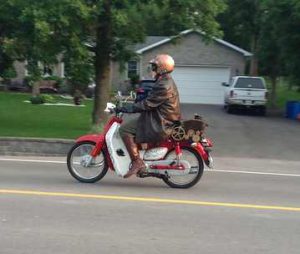 Some years ago I was in a motorcycle dealership in Toronto (no longer around), listening to a salesman telling a potential scooter buyer that the 50cc scooter they were looking was extremely fuel efficient (mostly true), that it was cheap on insurance (true) and that it didn't require a M class license (very false.)
This wouldn't be the first or the last time I would hear misinformation about scooters and mopeds in Ontario – with all of the different laws and regulations throughout Canadian provinces and the US, it can be difficult for many to know just what the true facts are, and what are myths or misunderstandings.
So we decided to help out – and write an article on Mopeds and Scooters – facts and myths alike.
Which you may have guessed, is this article.  So if we get into a long-winded discussion about appropriate motorcycle underwear choices we've probably gotten right off track.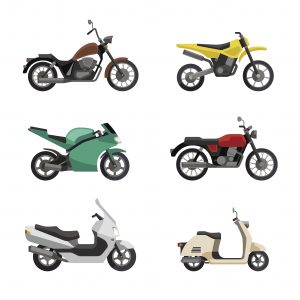 The first thing that you should know, is that while there is a "Moped" classification (Pedal equipped vehicles with a motor of no more than 49cc engine size in short) in Ontario, there really isn't a "Scooter" classification in terms of the highway traffic act.  Instead, scooters will fall into one of three possible categories – LSMs (Limited Speed Motorcycles), Motorcycles, or Three Wheeled Motorcycles.
Below is an explanation of what each category actually means.
Limited Speed Motorcycles
What is a limited speed motorcycle?  According to the Ontario Ministry of Transportation (and as defined by the Canadian Motor Vehicle Safety Act – which requires the vehicle have a compliance sticker indicating it is a type "LSM/MVL.") – it would consist of the following characteristics:
Minimum attainable speed of 32km/h on level ground within 1.6 km of a standing start.  (I've had mopeds that barely met this particular standard).
Maximum speed of 70kph or less.
Steering handlebars that are completely restrained from rotating in relation to the axle of only one wheel in contact with the ground
Minimum seat height, when not laden, of 650 millimetres
Minimum wheel-rim diameter of 250 millimetres
Minimum wheelbase of 1,016 millimetres
Engine displacement of 50 cubic centimetres or less
So any scooter of 50cc displacement or less in Ontario would be a LSM.  They require a M class motorcycle license, the same insurance as any motorcycle (though quite often 50cc machines are relatively inexpensive), and in fact the only difference with a LSM is that if you take your license tests in Ontario on a LSM class machine, you will receive a M with LSM restriction for your license class and not have to take a highway test as part of your M2 (LSM) or M (LSM) testing.  This means you cannot ride a non LSM motorcycle in Ontario with these licenses.  For further information, consult the MTO motorcycle license webpage HERE.
Mopeds
What is a moped?  In Ontario, a moped (according to the Ministry of Transportation yet again) a moped has the following characteristics:
Weight of 55 kilograms or less
Attached motor driven by electricity or having a piston displacement of no more than 50 cubic centimeters

Despite the tough looking exterior, this is just a moped – but you still need an M class license and insurance to drive it in Ontario.

Pedals that are operable at all times and may be used to propel the moped (EDITORS NOTE:  Frequently not very well.)
No hand- or foot-operated clutch or gearbox driven by the motor and transferring power to the driven wheel
Maximum speed of 50 km/h on level ground within 2 kilometers from a standing start
Furthermore – to quote the moped webpage on the MTO website:
"Under the Highway Traffic Act, mopeds are not considered motorcycles; however, mopeds require you to have the same types of riding skills as required for motorcycles, and you must hold a valid motorcycle class licence (an M1, M2(L), M2, M(L) or M) in order to drive on Ontario's public roads. Your moped must also be registered with the Ministry of Transportation and have a valid moped licence plate attached. When registering your moped at a Driver and Vehicle Licence Issuing Office, you must show the new vehicle information statement (NVIS). If your moped is a 1983 or earlier m­o­del, and you do not have an NVIS, you may make a self-declaration that the vehicle is a moped as defined under the Highway Traffic Act. After registering, you will be given a vehicle permit and a moped licence plate."
Also according to the MTO website
"You do not need a safety standards inspection and certificate if you are:
registering a used motorized snow vehicle, off-road vehicle, motor-assisted bicycle (e.g. moped), or trailer"
For licensing, a moped would be considered in the LSM class and would need a M class license and would (if taken on the MTO drivers test) result in a LSM restriction on your M license.
Motorcycle
Basically, any scooter of greater than 50cc capacity is legally a motorcycle – with all the normal conditions and regulations that would apply.  You need an M class license, require insurance, and need all the normal registration and safety certifications when transferring a used scooter.   There is no "Scooter" class of vehicle as I previously mentioned, there are only the categories mentioned in this article.  (Well and e-bikes, but we'll get into that in a bit.)  With the advent of machines like the Burgman 650 or the Honda Silverwing the only relevant difference for a maxi-scooter (usually defined as greater than 250cc in terms of engine capacity) is that it has a step through design and an automatic transmission – but in terms of how you are licensed and registered, there is absolutely no difference between a larger capacity scooter and a motorcycle.
Three Wheeled Motorcycles and Scooters
According to the MTO – a three wheeled motorcycle (or scooter) will have the following characteristics:
travel on three wheels, which are in contact with the ground
have straddled seating for the driver
use a handle bar for steering controls

As soon as you add a sidecar, a scooter becomes a three wheeled motorcycle to the MTO

have no more than four seats
have a gross vehicle weight of 1,000 kg or less
not have a structure partly or fully enclosing the driver and passenger except in front of the driver and the seat backrest
Some vehicles with close spaced front wheels would be considered by Transport Canada to be a two wheeled open motorcycle and thus would give you a regular M license if you took your drivers test on them, but otherwise taking your M test on a three wheeled motorcycle (including a scooter/motorcycle with sidecar) will result in you receiving a M license restricted to three wheelers.
An odd choice really, since I think that trikes and sidecar rigs actually require more skill than a two wheeled motorcycle and I think on average trike and sidecar drivers have two wheeled experience before they ever get a three wheeler, but that can be how government classifications work sometimes.  Aside from the licensing aspect, these vehicles otherwise are treated as regular motorcycles.
The MTO FAQ on three wheeled motorcycles can be found HERE.
E-Bikes
Not exactly our favourite vehicles due to the tendency for Ebike drivers to be riding with an…. interesting interpretation of traffic rules and basic safety.  These do indeed work like bicycles in terms of licensing and not needing insurance – with the two caveats that if your license is suspended because of a driving prohibition due to a conviction you cannot operate an ebike in Ontario, and also under the criminal code the definition of "Motor Vehicle" includes ebikes and thus you will be subject to DUI charges if operating one when legally above the limit.
Municipalities can also pass by-laws prohibiting where ebikes may travel on roads, paths trails, etc.
The MTO page on ebikes can be found HERE.
So we hope this article helps shed some light on what the *real* laws are around scooters and mopeds – because if you get caught riding a 50cc scooter or moped without an M class license or insurance, you might find the resulting fines and legal issues getting beyond the actual value of the scooter or moped.  It's up to us as riders to make sure that someone new to the word of scooters (or mopeds) has the correct information to safety and legally ride the roads.
Because if we don't look out for other riders, who will?